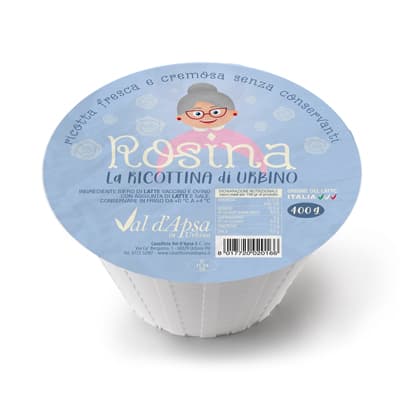 Soft and creamy, ideal eaten alone, or for the preparation of sweets and savory
Rosina, the ricottina of Urbino, the most fine and delicate of the entire production, obtained with cow and sheep milk whey with cow milk added.

Storage
in refrigerator from + 0 ° to + 4 ° C for a maximum of 12 days
ENJOY IT WITH A READING
We recommend to taste this cheese by reading this book
LA RICOTTA RICOTTA. RICETTE
The aroma and flavor of this delicious product take us back to the world of shepherds and transhumance, and to that "poor" cuisine that is the basis of the Mediterranean tradition. This book, enriched by Tano Pisano's graphics and many photographs, offers numerous recipes based on ricotta. From appetizers to desserts: a world of flavors and colors where there is space for sweet and savory, hot and cold, meat and fish. In short, a volume to read and put into practice with the ricotta di Val d'Apsa!