L'ANIMA MIA DAL CORPO HA TAL VANTAGGIO, CHE SE STASAT' ALLENTASSE L'ODORE, SECO NON LA TERRÈ 'LPAN E 'L FORMAGGIO
Michelangelo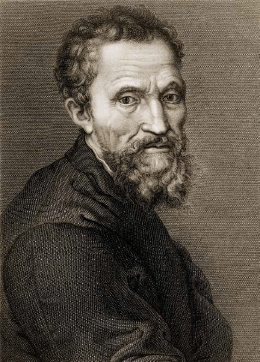 It appears that Michelangelo loved "Cascio di guaime", now much better known as "Casciotta di Urbino", a fresh, mild cheese made in the lands of the old Duchy, from the milk of animals fed on "guaime", the tender grass which grows after the first hay crop is cut. It even seems that he lived almost entirely on casciotta d'Urbino, since in one of his famous "Rime" he writes: "L'anima mia dal corpo ha tal vantaggio, che se stasat' allentasse l'odore, seco non la terre' 'lpan e 'l formaggio". A surviving notarial deed dated 12 February 1554 tells us that to guarantee himself a good stock of the cheese while working in Rome on the Campidoglio Square and the Church of St Peter, he had his servant and closest assistant, a native of Casteldurante, rent three farmsteads (land and buildings) near this small town.
Following in the footsteps of the eclectic artist and star of the Italian Renaissance, at Caseificio Val d'Apsa we have chosen to locate our dairy at Urbino and its surrounding Montefeltro district, a land of green hills, ideal for grazing and arable farming well away from sources of pollution and industry. Like our other products, our "Casciotta di Urbino" is only made from fresh milk from local farms.
1554 EXPLORING THE LAND OF MICHELANGELO
Fattorie di Maremma encapsulates the best of the Maremma tradition, with its rich variety and choice quality. We believe strongly in the flavours of bygone times, simple, genuine products and authentic flavours that reflect the ancient tradition of our area, a land of volcanic tuff rock and the Etruscans, very close to Lake Bolsena. The main ingredient is our local milk, processed with passion following the ancient Maremma tradition. The result is a cheese with all the fragrant perfumes of this wonderful area, a product of excellent quality made by combining modern technologies with respect for the area's traditional production techniques.